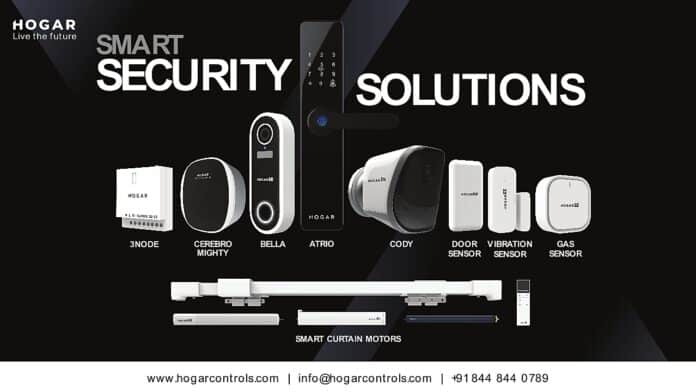 Advertisement
[adrotate banner="23"]
Home is our haven and a comfort zone to build memories with our families. Therefore, it is our utmost priority to protect our homes. Taking the time to evaluate the home surroundings for hidden threats is an integral part of home safety and security. Home automation and security are now integrated into a single ecosystem, opening up a world of new possibilities. Advanced innovative home technologies with highly efficient seamless IoT ecosystems have changed how we live.
Hogar Controls Inc., a global IoT firm with a design-first approach and holistic, smart home solutions, has designed and developed a host of innovative home safety and security products to ensure safety and security. It comprises different variants called Atrio, Bella, Cody, Cerebro Mighty, Door Sensor, Vibration Sensor, Gas Sensor, 3 Node, and Curtain Series. Hogar's home security range is of supreme quality and gives a lot of ease and convenience to operate. One of the most eminent, end-to-end intelligent home solutions providers, Hogar Controls, is India's only brand to offer a complete smart home ecosystem.
Advertisement
[adrotate banner="34"]
Hogar's innovative home security solutions enhance your home's safety on multiple levels and keep you informed one – step ahead of danger at all times.Hogar's smart security solutions are:
Atrio:
The digital door lock combines aesthetic design and brilliant functionality of accessing the front door through multiple ways by using your fingerprint, a smart card, a passcode, a manual key, or an app. With remote access, you can let anyone in your home even when not around, and you can even set one-time passwords for your routine visitors.
Bella:
The video doorbell provides high-definition video to your smartphone. Enables two-way communication, allowing you to communicate with visitors remotely. It is Wi-Fi enabled and can store visitor video footage.
Cody:
The IP Camera is an ultra-efficient home security camera with a built-in motion sensor that responds to triggers.
Cerebro Mighty:
The sleek and powerful master controller keeps you in charge of all the devices in your house with just a touch of a button.
Door Sensor:
It detects any unusual motion or force, alerting you to open doors or break-ins.
Vibration Sensor:
It detects any unusual vibrations or triggers and warns you of the potential danger.
Gas Sensor:
It detects a gas leak in your home or commercial establishment and notifies you instantly.
3 Node:
A device to convert an existing switchboard to a smart switchboard in 2 minutes without additional wiring. It can easily switch between commands and control electrical gadgets in a room like Light, Fan, AC.
Smart Curtain Motors:
It takes 2 minutes to install, configure, completely retrofit, and provides a plug-and-play solution with minimal DIY configuration.
About Hogar Controls:
Founded in 2015, Hogar Controls is a global IoT company with a design-first approach delivering robust solutions for Smart Cities, Communities, Buildings, Hospitality, Commercial, Living, and Working Spaces. We combine cutting-edge technology and design thinking to offer homeowners, retailers, and professional integrators a range of innovative, intuitive, and stylish products. Hogar offers plug-and-play solutions that provide user-friendly control and can be customized to fit the needs of your home, office, or hotel like a glove.To know more about Hogar Controls please visit , https://hogarcontrols.com/
Advertisement
[adrotate banner="30"]