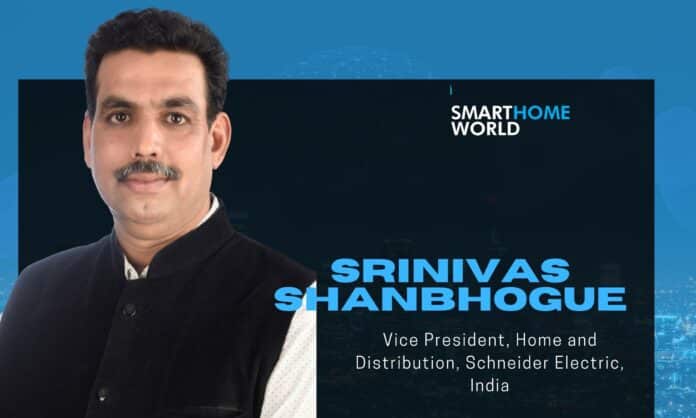 Advertisement
[adrotate banner="23"]
Smart Homes have been a default system for most of the homes in the US and Europe for quite a time. But in India, it is yet to be a part of every home. There are numerous challenges the country's mass has been facing to completely switch to smart homes from conventional houses. The list of challenges comprises budget, unavailability of stable internet/Wi-Fi connections, need for wireless systems that won't require troublesome wiring and most importantly people's vague ideas about retrofit solutions. "Understanding the challenges and aiming to develop a one-stop solution was the first step taken towards the conceptualization of a product that we launched with the name-Wiser", says Srinivas Shanbhogue, Vice President, Home and Distribution, Schneider Electric India. "Before designing the product, we did a lot of research to understand the consumer psyche and know what exactly an individual consumer means by the term Smart Home. Schneider's R&D centre is located in Bangalore and that is where the research was done seamlessly", he adds.
How do you think Wiser is disrupting the current smart home space?
Advertisement
[adrotate banner="34"]
The smart home is the trend we wanted to set for the mass and establish leadership in the industry. Each one has a different concept about smart homes and different requirements. For some, security is important and for others, entertainment or lights or any other aspect. After a lot of research, we found out that there are 4 major problems people face when it comes to getting smart homes.
In India, people build homes once or twice a lifetime. So those who had built houses long before the concept of smart homes existed, are not sure if they can get their houses upgraded with the latest technology without doing major changes in the infrastructure and the wiring system.
Most people in the metropolitan cities of India reside in one, two or three-bedroom apartments with families comprising retired elderly people, working couples and kids. Therefore people get sceptical about the user-friendliness of smart home systems. These are often considered complex for an elderly person or a kid to operate.
For the Indian mass, setting up a smart home controller is a long process involving designers, integrators and time-consuming installations.
The Indian middle-class segment is very much budget conscious. Smart Homes setups once used to be quite expensive starting from INR 5,00,000 onwards and were targeted to a niche crowd. Hence, the mass always felt that smart homes are out of reach.
With a unique IoT technology, Wiser is efficiently solving the above problems by being wireless, reasonably priced(INR 35,000 onwards), easy-to-operate for everyone in the family and allowing devices of other brands to easily integrate with it. Also, the entire installation requires not more than 4 hours and can be done in both new and old houses. This is how I believe it is creating a disruption in the smart home industry. It is specifically designed considering the needs, requirements of the Indian mass. Wiser is a product that we can proudly claim to be "Made in India and Made for India".
What extra value are consumers going to derive from Wiser?
Firstly, Wiser offers the convenience of monitoring and controlling all connected devices and appliances through an app on your smartphone, Alexa and Google Assistant. Schneider offers a unique security device called Skybell. It plays the role of an intelligent doorbell informing you who is outside your door. Also, you will be able to talk to the visitor and open the door through your phone. Wiser can integrate remotes of multiple devices at home to a single intelligent remote on your smartphone. Using that, you can control and monitor devices sitting at the office as well.
Due to the pandemic, a huge number of people have started working from home, which leads to 2X or 3X energy consumption. This is when energy management started becoming a necessity. By installing Wiser, one can keep a track of which all electrical devices are on and need to be switched off. You will get a notification message on your smartphone informing you that maybe your geyser is on for more than 2 hours. Then you can switch it off through the phone only. With an in-built AI, it also gives a real-time status of energy consumption. Keeping in mind the unstable internet/Wi-Fi connections, Wiser is developed using a mesh network technology so that network is available to operate devices fitted in any corner of a house.
What according to you is going to be the future of the Indian Smart home industry?
Covid-19 has helped this industry very much. Like in the western countries, Smart homes will soon become a default setup for homes in India as well. Earlier, it used to be a luxury but will become a necessity in 5 years down the line.
Advertisement
[adrotate banner="30"]