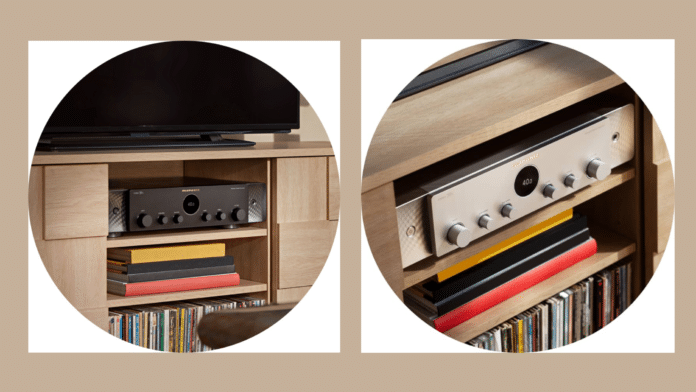 Advertisement
[adrotate banner="23"]
Marantz, a renowned audio brand with a 70-year legacy, continues its tradition of delivering exceptional sound experiences with the introduction of the STEREO 70s 2-Channel Hi-Fi Receiver. This sleek and minimalist receiver not only looks great in any home theater setup but also boasts the signature warm, rich, and detailed sound that Marantz enthusiasts and luxury connoisseurs have come to adore.
The STEREO 70s seamlessly combines Marantz's premium craftsmanship and timeless style with cutting-edge audio technology, promising the ultimate immersive home listening experience.
Advertisement
[adrotate banner="34"]
Here are a few highlights from this remarkable receiver
* Hyper-Dynamic Amplifier Modules (HDAMs): These modules, developed to outperform traditional chip-based op-amps found in typical audio products, ensure bold performance and superior sound quality.
* Compact Design with Full-Size Amplifier Performance: Despite its slim 4.1-inch-tall chassis, the STEREO 70s delivers the performance and sound quality of a full-size amplifier, making it suitable for spaces where traditional components won't fit. You can connect up to two loudspeaker pairs and play them separately or together.
* Comprehensive Connectivity: The receiver features six HDMI inputs, including three that are 8K compatible, and an HDMI output with ARC support. This ensures seamless connectivity with both current and future video and gaming components.
* High-Resolution Audio Support: The STEREO 70s is compatible with 192kHz 24-bit digital audio and DSD files, giving enthusiasts access to the most precise high-resolution digital decoding available.
* HEOS® Built-In Technology: With HEOS® Built-In, users can easily access their favorite streaming content and enjoy music throughout their home when connected to other HEOS-enabled devices.
For More Information: www.marantz.com
Advertisement
[adrotate banner="30"]