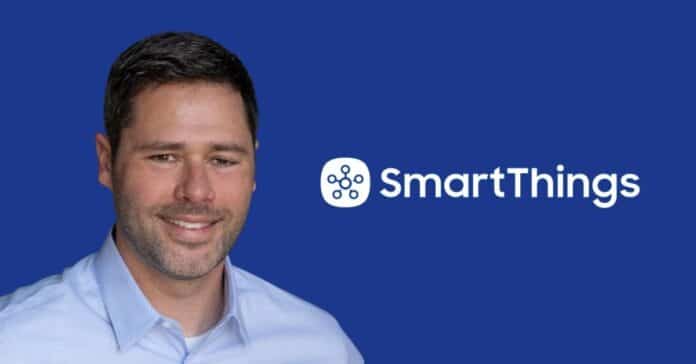 Advertisement
[adrotate banner="23"]
Mark Benson has been appointed as the new head of Samsung SmartThings, the leading platform empowering connected living and the future of IoT. Benson will oversee SmartThings growth & development strategy to achieve its mission of mass smart home adoption.
With over 20 years in the industry, Benson was previously the Head of Product & Engineering at SmartThings where he was engaged in multiple projects that made SmartThings substantive for developers as well as their customers. Preceding SmartThings, he has taken on executive leadership roles in several companies in the technology industry ranging from design to software development and manufacturing.
Advertisement
[adrotate banner="34"]
"Connected living is at an inflection point and is primed for mass adoption. SmartThings continues to be at the center of this movement, and I'm looking forward to continuing to build, grow, and expand our platform to new audiences," said Mark Benson, Head of SmartThings US. "We are very proud of SmartThings' evolution and are excited to work in tandem with Samsung to push its global initiatives forward."
Benson along with his team were crucial in building SmartThings and expanding the platform beyond hubs directly into Samsung devices. He led the development of SmartThings Edge, a new hub architecture that allows hub connected devices to execute locally. Benson was pivotal in the integration of Matter, a smart home interoperability standard, with SmartThings ecosystem.
"Connectivity within the home is becoming more important to consumers to help with their everyday lives. At Samsung, we have been following this trend for years and have invested in SmartThings to create new experiences for our users and allow the home to take care of them," said Patrick Chomet, Corporate Executive Vice President Head of Products & Experience at Samsung. "The smart home market is now a multi-billion-dollar industry, and we're confident that Mark's extensive leadership experience will continue to drive our mission of bringing SmartThings into every household across the world."
SmartThings has witnessed extraordinary growth as its functionality continues to expand every day. SmartThings has created a rich ecosystem of partnership, with billions of devices being compatible and has positioned itself at the center of creating a unified connected home experience.
About Samsung SmartThings
SmartThings is the leading technology for connected living and the IoT. Its open platform now supports thousands of devices from hundreds of manufacturers, giving entrepreneurs and developers limitless possibilities in a large IoT ecosystem. For more information please visit , https://www.smartthings.com/ 
Image Source: Linkedin/markbenson, Linkedin/smartthings
Logo Source:  Linkedin/smartthings–
Advertisement
[adrotate banner="30"]