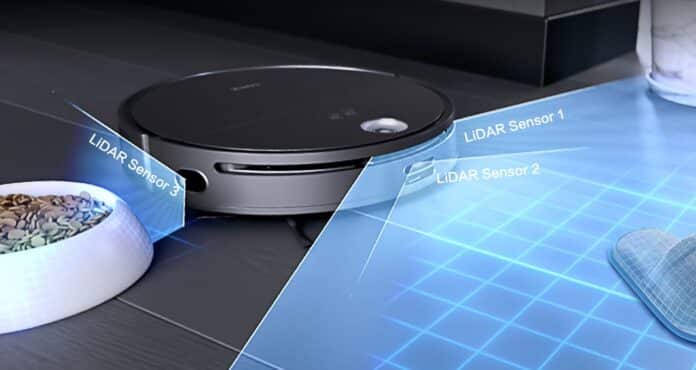 Advertisement
[adrotate banner="23"]
"It's always a risk to launch a new product and every design process is full of risks." Said Prof.Dr. Peter Zec, founder, and CEO of Red Dot, "that's why designers and companies should check their ideas before they invest in these ideas. I think a design concept award is the best situation and the best background to evaluate the concept."
While the origins of the Red Dot Award dates back to 1955, with over 50 categories, manufacturers and designers can enter their innovations in the competition. It is often referred to as "The Oscars of design" and regarded as one of the three most prestigious design competitions globally, along with the iF Design Award in Germany and the International Design Excellence Awards (IDEA) in the United States.
Advertisement
[adrotate banner="34"]
The Red Dot jury is in constant search of good design and innovation, they evaluate the entries and only award a Red Dot to products that win them over with their exceptional design quality.
One of the juries, Professor Dr. Ken Nah said, "What makes a good design is a feasibility of turning a concept into reality, and secondarily, its creativity and visual effects. The most important thing is to strike a balance within the above dimensions."
Amidst the thousands of participating products, the 360 Robot Vacuum Cleaner won the Red Dot Annual Award. The letter from the Red Dot wrote, 360 Robot Vacuum Cleaner S10 received unanimous approval due to both its high quality of design and function.
The judging criteria, regularly being updated to meet the new technical, social, economic, and ecological requirements. The 360 Robot Vacuum Cleaner S10 swept up the competition with its extraordinary design and spectacular user experience.
As we play jury and decide to welcome this award-winning product into our homes,
let's take a closer look at its fascinating features:
Triple-eye LiDARs with accurate 3D mapping and efficient obstacle
avoidance.
No longer the humble vacuum cleaner, the 360 Robot Vacuum Cleaner S10 uses triple-eye LiDARs (LDS and OLS LiDAR), with dToF scanning and 5.0 autopilot technology, which give it a full 360-degree view of a room, create a precise mapping, and bring obstacle avoidance performance to the next level – even the tiny obstacles as slim as 0.4 inches.
Possessing a total of 3 lasers, each with its unique function. The main laser detects the objects at a distance of around 8 meters ahead. A front laser sizes up objects in its path, made smart enough to know whether it should navigate away or rollover or hoover the object. The 3rd wall laser measures heights above and around it, detecting when it can squeeze past or under obstacles. These lasers can gauge over 100 kinds of obstacles, and one can rest assured that the S10 won't sweep over any pet accidents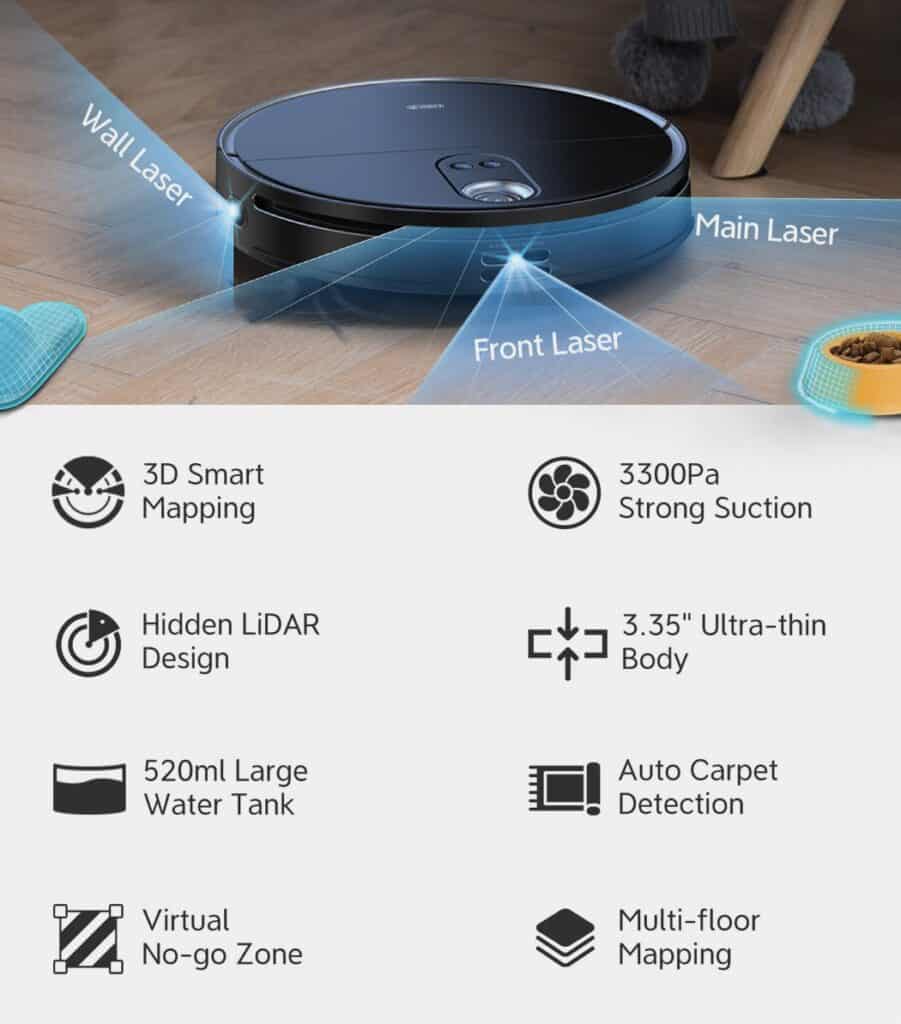 Double-capacity water tank and super-strong suction
Equipped with a large water tank, double in capacity when compared with other robot vacuums. The S10 covers a large surface area up to 2153ft² in one effortless lap. Also giving the user completely customizable mopping zones and mopping times.
Using a Nidec motor with a 3300Pa suction power, S10 can suck up dust hidden in the fibres of even the thickest rug, by automatically adjusting its suction strength.
Hidden sensor design with an ultra-slim body
Being around 8.5cm (3.3 inches) high with a sensor built to be out of sight, it easily gets under shoe cases/shelves and sofas. The S10 gives its owner spot & edge cleaning while protecting all furniture legs.
Easily control with mobile App
The 360 Robot OS technology, ensures users control over S10 via a mobile app. Set up is made easy by the deep cleaning mode for any overused filthy area. Simply check your cleaning route and mode, then schedule a plan based on your daily routine. An efficient cleaning system is now at your fingertips.
Wondering where to buy?
The 360 Robot Vacuum Cleaner S10 has been officially launched on Indiegogo, made available for users around the globe at an early bird special price.
https://www.indiegogo.com/projects/360-robot-vacuum-cleaner-s10-mop-carpet-cleaning#/
According to Jason Wong, the chief product design director of 360, winning the Red Dot award is an excellent approval for them.
360 Smart Life will continue to design innovative smart home devices, to let more households join in the fun of smart home living.
To know more about the 360 Smart Life Group, use the link below:
https://smart.360.com/about.html
Source:
https://www.red-dot.org/pd/about
Advertisement
[adrotate banner="30"]