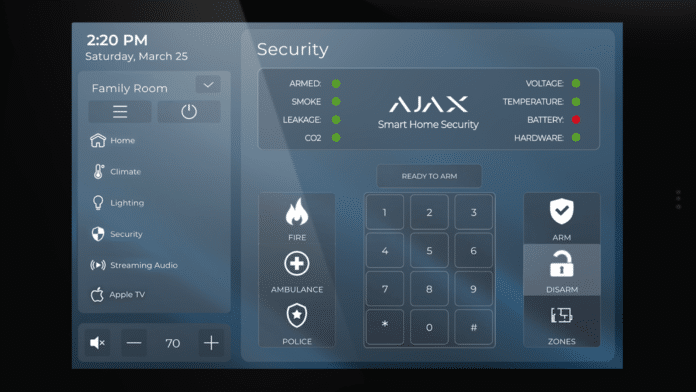 Advertisement
[adrotate banner="23"]
The leading control and automation manufacturer RTI recently announced that the RTI control platform now integrates with Ajax Systems, a Ukraine-based developer and manufacturer of professional security systems sold world-wide. The new RTI driver enables control and automation of Ajax's Jeweller series wireless security devices within an RTI control system.
"Ajax is an important global provider of wireless home security systems, and we are thrilled to launch the new Ajax driver," said Neal Ellsworth, Director of Product Management at RTI. "The integration enables custom integrators worldwide to quickly add Ajax security devices to their clients' RTI control and automation systems, elevating the smart home user experience."
Advertisement
[adrotate banner="34"]
With the new driver, Ajax security system control can be managed through the RTI system. The integrator can quickly add functionality to the control system that will allow the homeowner to arm or disarm the entire Ajax system or individual groups (zones); provide feedback indicating the status of connected devices, including malfunctions; and support events to trigger driver functions or alerts based on feedback received from Ajax System.
"Ajax was built from the ground up to rethink the traditional approach to security systems by being easily adapted and expanded based on changing security needs," said Rob Harman, Director of Sales, North America at Ajax Systems. "Now, with this driver, Ajax security can be controlled from within RTI systems for even more assurance and flexibility, adding value to every installation."
The new driver is available to authorized RTI dealers at the RTI driver store and directly within the RTI Integration Designer 11 control application programming software.
For More Information: www.rticontrol.com
Advertisement
[adrotate banner="30"]