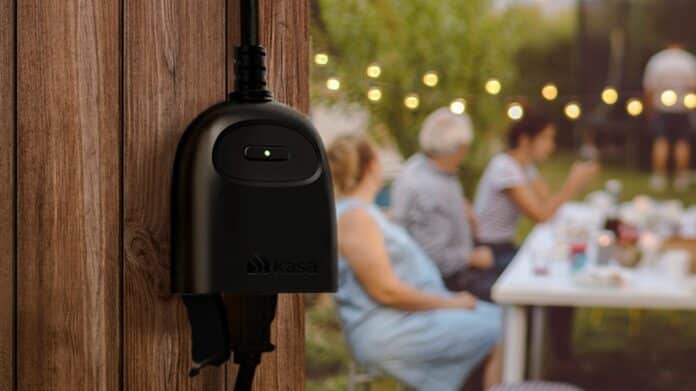 Advertisement
[adrotate banner="23"]
TP-Link is expanding its outdoor product line by introducing a pair of smart plugs. Kasa brings smart home conveniences to the outdoors with extra-long range, weather resistance, and smart apps supporting voice control.
"We are excited to introduce our latest outdoor smart home innovations to easily control outdoor appliances and lighting," said Jeff Barney, COO of TP-Link USA. "Our amazing outdoor plugs offer a long Wi-Fi range allowing users to easily stay connected all while being controlled with simple voice commands or with the Kasa Smart app."
Advertisement
[adrotate banner="34"]
The TP-Link's Kasa KP401 Smart Wi-Fi Outdoor Plug provides a single, hub-free, smart outlet that connects to home networks at a distance of up to 300-feet. The KP401 has an IP64 weather-resistance rating for year-round use. Along with ETL certification with support for loads up to 15A and up to 1875W.
The Kasa Smart Wi-Fi Outdoor Plug-In Dimmer (KP405) connects directly with any 2.4 GHz in-home wireless network, no additional device is required to bring Wi-Fi outdoors up to 300 ft. It has an IP64 rating and features a weather-resistant cover, ensuring protection against dust intrusion and splashes of water. With the KP405, consumers can adjust the brightness of outdoor lights to set the perfect ambiance as well as control schedules from sunrise to sunset automatically.
In addition to the Kasa app, both the latest plugs support voice controls via Alexa and the Google Assistant. For more information on Kasa smart outdoor plugs.
About Kasa Smart
It started in 2015 with a very smart plug. Kasa Smart was TP-Link Research – TP-Link's think tank for all things smart home. They have launched smart bulbs, smart light switches, smart cameras, and an entire line of smart plugs, including outdoor. The Kasa Smart app is home to everything, putting end-users in complete control. To know more visit , https://www.kasasmart.com/us
Advertisement
[adrotate banner="30"]