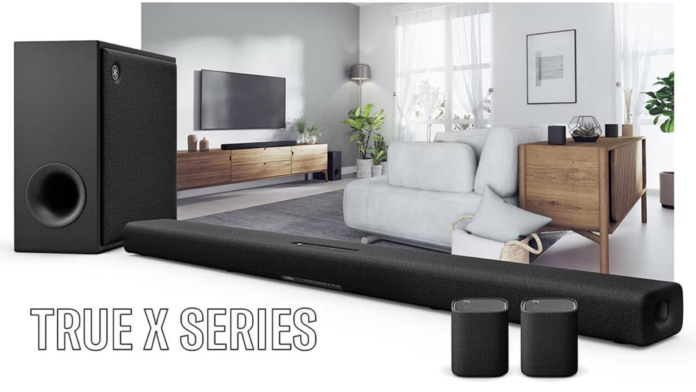 Advertisement
[adrotate banner="23"]
Yamaha recently unveiled the True X Series, a family of Dolby Atmos sound bars and wireless surround speakers that provide a new, flexible way to transform your home with an immersive, cinema-grade audio experience. The surround speakers are wireless and portable, with built-in rechargeable batteries, allowing for far greater placement options in your viewing room. They also feature a one-touch button that instantly switches from Surround mode to Solo mode, allowing you to use them as portable Bluetooth speakers, anywhere you go.
"We understand the challenges movie, TV, and music enthusiasts face when it comes to recreating a truly immersive audio experience with Dolby Atmos. That's why we are thrilled to introduce the True X Series, making it easier than ever to transform your living room into a captivating home theater, even if you prefer to avoid wires, find DIY installations daunting, or have limited electrical outlets," said Alex Sadeghian, Director of Consumer Audio at Yamaha Corporation of America. "Moreover, our True X Speakers are not limited to your home theater setup – they can be taken anywhere, from the kitchen to the beach, with the push of a button."
Advertisement
[adrotate banner="34"]
The True X Bars – True X Bar 50A and True X Bar 40A – offer outstanding sound performance, with remarkable detail, realism and spatial imaging. The 40A is a single-body, all-in-one sound bar with built-in subwoofers; the 50A has both built-in subs in the bar plus it comes with a wireless subwoofer for even better bass sound. Both models use up-firing speaker drivers for authentic Dolby Atmos immersion and feature Clear Voice for exceptional dialogue clarity. Music listening is convenient with Bluetooth, Wi-Fi, Spotify Connect, AirPlay and TIDAL Connect. Listeners also have the option to enable Alexa for control and access to streaming services via voice.
The True X Speaker 1A makes it a breeze to add wireless surround to either the 50A or 40A, significantly improving the immersive effect of the sound bars. In Surround mode, the Speaker 1A pairs to the soundbar using a direct wireless connection for low latency and best signal stability; in Solo mode, it uses Bluetooth 5 for connection to virtually any smartphone or tablet. Its IP67 waterproof and dust-resistant rating makes it ready to take on outside elements and like the sound bars, the Speaker 1A offers the Clear Voice enhancement. An optional charging cradle (CC-T1A) is available for effortless grab-and-go flexibility.
The True X Bar 50A, True X Bar 40A and True X Speaker 1A are sold separately. The True X Sub 100A is available to pair with the True X Bar 40A for enhanced bass performance.
Features:
Versatile Connectivity: HDMI eARC/ARC, HDMI input, optical input
Intuitive Controls: Top panel controls on the sound bar, remote control and downloadable Sound Bar Controller app for iOS and Android
Five Sound Modes: Standard, Stereo, Game, Movie and All. All mode plays content on the soundbar and speakers at an even volume
Sound Processing Technology: Dolby Atmos, Dolby True HD, Dolby Digital Plus and more
Clear Voice: For dialogue clarity.
Music Streaming: Bluetooth connectivity, Wi-Fi (5GHz/2.4GHz), Spotify Connect, AirPlay 2 and TIDAL Connect.
Speaker Drivers: X50/X40: (2) 2.6″x 1.8″ front drivers L/R, (2) 2″ height channel drivers L/R, (2) 3″ built-in subs. X50: (1) 6.3″ wireless subwoofer driver.
Tabletop or Wall-Mount Bar Placement: Built-in keyholes in the bar allow for easy wall-mounting if desired.
Advertisement
[adrotate banner="30"]