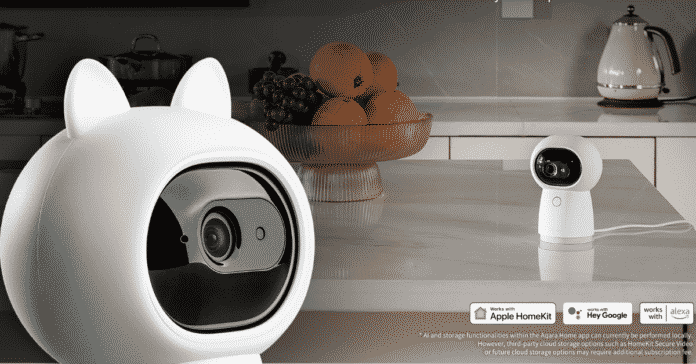 Advertisement
[adrotate banner="23"]
Aqara, a leading provider of smart home products, has launched a next-gen home security camera, the Camera Hub G3. The new camera is a 2K, pan-and-tilt camera with the local facial and gesture recognition features, and it integrates a built-in Zigbee 3.0 hub, allowing the device to connect up to 128 Aqara accessories.
With a powerful NPU-equipped processor, the Aqara Camera Hub G3 supports facial recognition and gesture recognition features.
Advertisement
[adrotate banner="34"]
Users can configure and receive push notifications when their young kids arrive home or when a stranger is detected (i.e. a familiar face was not detected), or to stop video recording when the face of a family member or a preset hand gesture is recognized.
The G3 camera hub also supports automatic cruising, face tracking as well as pet tracking, all enabled by the 110° wide-angle lens and the pan-and-tilt motor which provides up to 340° rotation angle. The pan-and-tilt motor can be controlled manually, by the preset cruising path, or via home automation (for example, to turn to the front door when Door & Window Sensor is triggered). Combined with the high-resolution 2304×1296 pixel sensor and the infrared night vision enabled by the 940 nm LEDs, which are invisible at night, the G3 protects homes in 360-degree with no blind spot, day and night.
The new G3 other advanced features include:
Wider compatibility with third-party platforms: as a camera, it supports not only HomeKit Secure Video but also streams to Amazon Alexa and Google Assistant smart displays. As a hub it allows connected child devices to support a wide range of third-party ecosystems and voice assistants, such as HomeKit, Alexa, Google Home, IFTTT, and more.
Local infrared control: the built-in IR controller allows the G3 to automate the infrared-compatible devices, and the IR automation is local which means it remains functioning without the Internet connection.
Dual-band Wi-Fi support: both 2.4GHz and 5GHz Wi-Fi networks are supported.
Privacy protection: it is equipped with a privacy shutter that physically covers the camera lens, and the shutter can be activated manually and automatically.
Type-C port with video out: it us.es the modern and universal connector that supports low-latency, high-definition video output via UVC protocol.
For more details of the G3 camera hub, please visit the website: https://www.aqara.com/en/product/camera-hub-g3
Advertisement
[adrotate banner="30"]