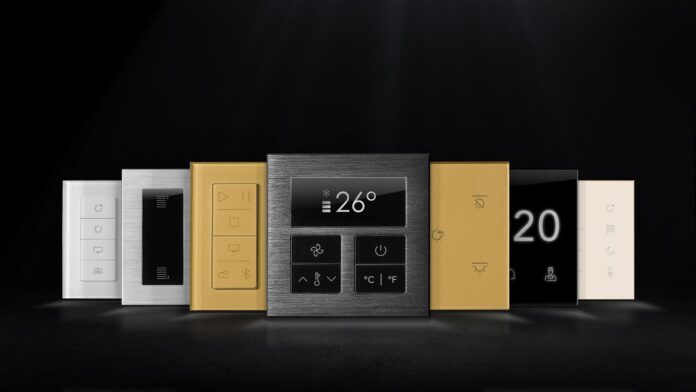 Advertisement
[adrotate banner="23"]
Black Nova recently disclosed the integration of ARIA and ALBA Design Keypad Collection with Philips Dynalite, which is added to a growing range of control systems like RS485, Control4, Crestron, Lutron HomeWorks QS, and KNX. This all-new integration bolsters the brand and tech incertitude of Black Nova, whose primary goal is to elevate the Smart Design Keypad to a complete design object, which is not tied to any particular technology or control platform.
Black Nova's all collections come with extensive features like independent dimmable RGB backlight, temperature, humidity sensor, support multi-gang frame composition with keypads, temperature control, and sockets while offering the end-users unparalleled options for customization. The multipurpose display features a full OLED technology and is capable of acting as temperature control, media player, and generally showing any information shared by the host controller like the guest name, conference room name, and many other custom features. The Smart Design Keypad collections of Black Nova pair with numerous third-party systems and are being widely considered as a stylish interface for controlling climate, lighting, shades, etc. The Black Nova smart gateway, NOVA Hub supports most of the third-party devices and popular communication protocols like IP, KNX, ZigBee, Dali, etc. Besides, the collections comprise the flush finish mounting platforms of Trufig, Wall-Smart, the Legrand Arteor collection of mechanical switches, sockets, media hub, and presence sensors.
Advertisement
[adrotate banner="34"]
About Black Nova
Black Nova is a design-driven technology company and a global reference brand for Smart Design-Keypads. Black Nova Smart Design Collections incorporate a bold personality with the use of luxury materials and relentless attention to detail. The result is an exceptional and flawless user experience across all senses and dimensions.
Black Nova is brand and technology agnostic, elevating the Smart Design Keypads to pure design objects not tied to any particular technology or control platform. To know more please visit; https://blacknova.co/
Advertisement
[adrotate banner="30"]