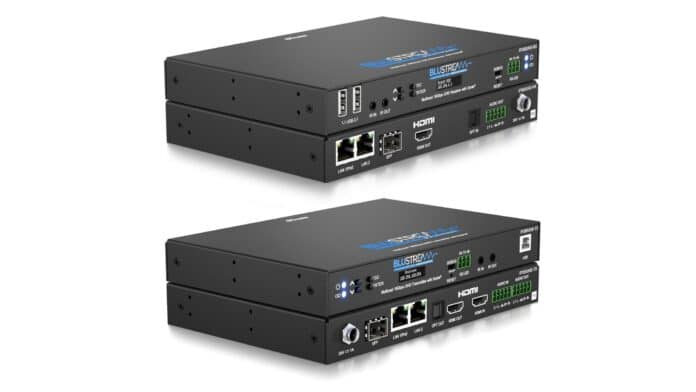 Advertisement
[adrotate banner="23"]
Leading AV distribution innovator Blustream announced the worldwide launch of the new IP300 video over IP platform. The IP300UHD and the Dante-enabled IP350UHD transmitters and receivers transmit 4K 60Hz 4:4:4 HDMI 2.0 with HDR at 18Gbps over a 1Gb network. This full HDMI 2.0 over IP is ideal for applications such as live sports where the highest quality is essential. The transmitters and receivers leverage the new ACM210 control module to facilitate seamless control with all leading automation brands.
"With the IP300UHD and IP350UHD, integrators now have a cost-effective solution to deliver 4K60 4:4:4 over a 1Gbps network," said Martyn Shirley, General Manager and Founder at Blustream. "The IP300UHD and IP350UHD complete the Blustream video over IP offering, giving integrators the full spectrum of options – from the essential HD performance of the IP50HD line all the way to the uncompromised 18Gbps over a 10Gb network of the IP500UHD transceiver."
Advertisement
[adrotate banner="34"]
Shipping now, the Blustream IP300 series video over IP platform allows virtually latency-free (1 frame) distribution of HDMI 2.0 video over a 1Gb managed network. The IP300UHD-TX is a 4K HDCP 2.2 HDMI transmitter that uses visually lossless compression technology to deliver 18Gbps HDMI, audio, bi-directional IR, RS-232, and USB/KVM up to lengths of 100m over standard copper network architecture, or greater distances using the built-in fiber SFP network interface. The IP300UHD-RX receiver features a second RJ45 LAN port for daisy-chaining the HDMI signal onto further IP300UHD-RX units. With a full 18Gbps HDMI scaling chipset on board, the HDMI output can be adjusted to lower resolutions where legacy displays are required in the same system as full 4K. The scaling capabilities of the receiver also allow for video wall deployment.
Shipping in June, the Dante-enabled IP350UHD-TX and IP350UHD-RX can support both 4K60 4:4:4 video and Dante audio distribution on a single network. A second RJ45 connection allows for the Dante audio network interface to be segregated from the video over IP network whenever required.
All units can be powered via PoE from the network switch, or locally should the switch not support PoE. With multiple configuration options available, the flexibility of the Blustream Multicast video over IP solution makes this platform ideal for multiple installation types. The new Advanced Control Module, the ACM210, was specifically designed to deliver faster processing power while retaining backward compatibility with the existing Blustream IP50 and IP200 series.
More information about the Blustream IP300UHD and IP350UHD transmitters and receivers can be found at:
United States: blustream-us.com/video-over-ip-hardware
Australia: blustream.com.au/video-over-ip-extenders
UK / EMEA: blustream.co.uk/video-over-ip-extenders
Advertisement
[adrotate banner="30"]