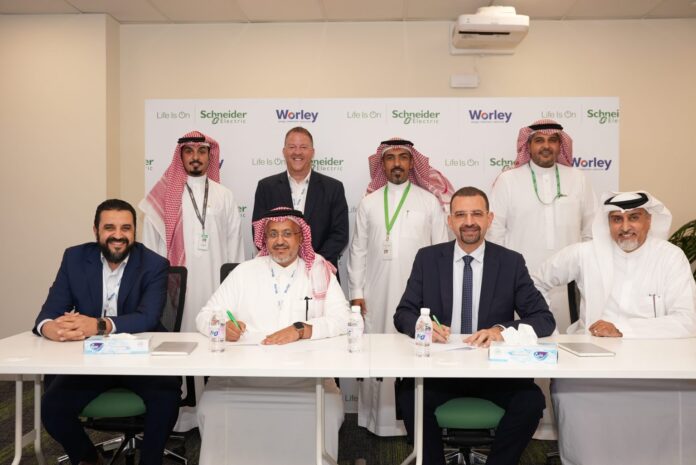 Advertisement
[adrotate banner="23"]
Schneider Electric and Worley have signed a partnership agreement to develop and deploy digital solutions and new technologies for the energy market and smart city projects across Saudi Arabia. The two companies will support the country's energy firms and government bodies in achieving their digital transformation ambitions.
Schneider Electric's expertise in the digital domain and operational technology combined with Worley's digital experience ranging from data visualization platforms to award-winning robotics allows the two companies to provide the Kingdom's energy firms and government bodies with the required support in their digital transformations in areas including Artificial Intelligence, the Internet-of-Things, and cybersecurity.
"Partnerships are key to ensuring the success of any digital transformation project, and our technological know-how combined with Worley's project experience and digital capability will mean our customers in the energy sector will have the best of both worlds," said Mohamed Shaheen, Cluster President for Saudi Arabia, Schneider Electric. "We're also excited about the possibilities of working together in the smart city space, so we can develop more sustainable and livable conurbations for customers in Saudi Arabia."
Advertisement
[adrotate banner="34"]
Worley is one of the world's largest engineering companies, providing project delivery and consulting services to the resources and energy sectors, and complex process industries. Worley covers the full lifecycle, from creating new assets to sustaining and enhancing operating assets, in the hydrocarbons, mineral, metals, chemicals, and infrastructure sectors.
Speaking on their efforts to accelerate digital transformation in Saudi Arabia, Eissa Aqeeli, Senior Vice President, Saudi Arabia, and Bahrain, Worley, said, "By leveraging our strong respective track records and expertise, we expect to make a meaningful impact for our customers in the industries we serve. Bringing more efficient ways of working and enabling better, safer, and more sustainable outcomes through digital."
About Schneider Electric
They drive digital transformation by integrating world-leading process and energy technologies, end-point to cloud connecting products, controls, software, and services, across the entire lifecycle, enabling integrated company management, for homes, buildings, data centers, infrastructure, and industries. For more information please visit, https://www.se.com/in/en/
About Worley
Over the past 12 months, their network has grown. They work with their consumers and local communities to build a better tomorrow. They also put sustainability at the heart of everything, whether helping customers improve their assets or preparing them for the next chapter of the energy transition. To know more visit, https://www.worley.com/
Advertisement
[adrotate banner="30"]