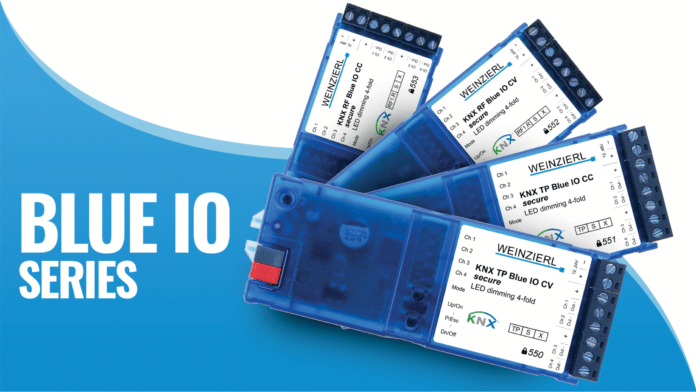 Advertisement
[adrotate banner="23"]
Step into the future of smart lighting with Weinzierl's innovative KNX Blue IO series. These compact devices are engineered for both permanent installations in dry indoor environments and seamless integration into furniture or suspended ceilings, offering unparalleled flexibility and mastery over your lighting systems.
They offer various option:
Advertisement
[adrotate banner="34"]
KNX TP Blue IO 550 CV secure: This compact dimming actuator boasts 4 PWM outputs, granting you precise command over RGB, RGBW, and Tunable White lighting setups.
KNX TP Blue IO 551 CC secure: Designed for constant current dimming, this actuator provides 4 outputs, ensuring consistent and energy-efficient lighting control.
KNX RF Blue IO 552 CV secure: Operating in KNX RF S Mode, this wireless dimming actuator also offers 4 PWM outputs, making it an ideal choice for enthusiasts of wireless lighting control.
KNX RF Blue IO 553 CC secure: Similar to its counterpart, this device operates in KNX RF S Mode and provides 4 constant current dimming outputs, ensuring robust and dependable wireless control.
Highlight Features:
Tailored Lighting: These dimming actuators are versatile and compatible with various lighting configurations, including RGB, RGBW, and Tunable White. Whether it's LED panels or strips, they deliver optimal control.
Versatile Control: Each device offers multiple control options, from switching telegrams to relative dimming and dimming values. Convenience features such as scenes, snooze, staircase lighting, and sequencer are seamlessly integrated for added adaptability.
Local Operation: Equipped with two pushbuttons and five LEDs, these devices empower local operation and provide visual indicators to monitor device status.
Logic and Time Control: Beyond lighting, the devices offer 16 independent functions for logic or time control, enhancing their versatility.
Data Security: Rest assured, all devices in the KNX Blue IO series prioritize KNX data security, ensuring the safeguarding of your lighting systems.
Technical Specifications:
Compact Design: Housed in transparent plastic, each device features a compact design, measuring 132 x 46 x 20 mm and weighing approximately 75 g.
Power Supply: Powering these devices is a breeze with low KNX bus consumption and convenient pluggable screw connectors for power supply.
Output Channels: With PWM dimming and support for constant voltage or current inputs, these devices effortlessly handle a variety of lighting configurations.
RF Interface: Devices operating in KNX RF S Mode come equipped with integrated antennas for seamless wireless control.
Elevate your lighting control experience to new heights with the KNX Blue IO series. Embrace precision, versatility, and cutting-edge technology packaged into a sleek and compact design. It's time to revolutionize your lighting control.

For more details, visit https://weinzierl.de/en/
Advertisement
[adrotate banner="30"]