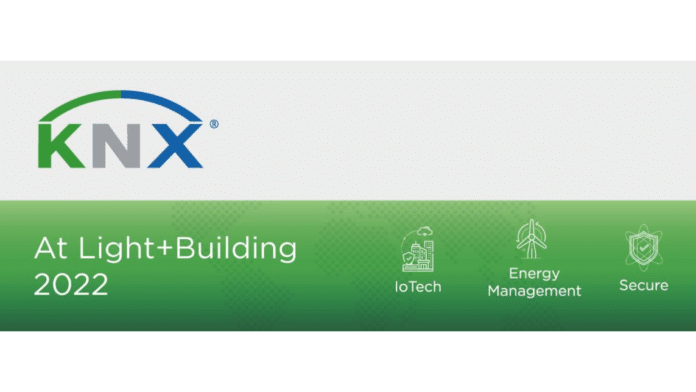 Advertisement
[adrotate banner="23"]
With a particularly strong presence at this year's Light + Building, KNX will celebrate the return of the world's most important trade fair for home and building automation and will present the latest innovations from the KNX universe at various booths (hall 12.0, B91 & C85 and hall 11.1, C92) from the 2nd to the 6th of October.
From new KNX IoT products and solutions to efficient KNX energy management in smart buildings to KNX Secure, exciting highlights await the more than 200,000 expected trade fair visitors. In addition, 22 KNX members will showcase their numerous KNX innovations and KNX products at the KNX booth and more than 120 KNX members at their own booths, demonstrating the versatility and high performance of the world's leading technical standard for home and building automation.
Advertisement
[adrotate banner="34"]
Experience all KNX highlights live
In the KNX IoT showroom at booth B91 in hall 12.0, visitors can experience live the very first products and solutions based on the KNX IoT 3rd Party API and learn more about the now available open-source KNX IoT Point API. Furthermore, various experts will be on hand to explain how energy management systems can be seamlessly integrated into buildings thanks to KNX and which features make KNX the most sustainable solution for efficient energy management. At the KNX booth C92 in hall 11.1, the focus will be on cybersecurity. Here, all trade fair visitors can get an overview of the large portfolio of KNX Secure devices, which comprehensively protect smart homes and buildings from hacker attacks. KNX Professionals will provide first-hand insights into KNX Secure and show what makes KNX a secure and reliable solution for all building types and how easy it is to integrate KNX Secure solutions.
Discover the latest ETS features and join the KNX Championship
Another highlight awaiting visitors to Light + Building 2022 is the ETS area of the central KNX exhibition stand in hall 12.0. Here, visitors can discover the latest ETS features, including the new cloud licensing model, and special offers for the popular KNX software tool: Booth visitors only will enjoy a 40% discount on ETS6 Professional cloud licences and a 50% discount on all ETS apps by KNX Association. For questions and user feedback, the ETS area offers the possibility to get in touch with the ETS6 developers. Visitors can also join the KNX Championship, which will be held daily. All KNX Championship participants will receive a 30% discount on ETS licences. In addition, they have the opportunity to win a package of ETS apps and – via a lottery – ETS6 Professional, ETS6 Home or ETS6 Lite licences.
Networking and know-how for the entire KNX community: from beginners to professionals
Light + Building with the KNX exhibition stand in hall 12.0 and in hall 11.1 offers the ideal platform for KNX professionals from all over the world to network with each other, but also to receive further training. In addition to presentations on the latest KNX developments in the areas of IoT, energy management and KNX Secure, numerous fascinating conference sessions and discussions with top KNX experts will open the door to a deeper dive into the world of KNX and the acquisition of specialised know-how. And for those for whom KNX is still new, the "Start@KNX" area is a good starting point: KNX beginners can look forward to comprehensive and easy-to-understand introductions to home and building automation with KNX, as well as plenty of information about training offers. A special area for developers provides an overview of the development programme that the KNX Association has set up for innovative companies: The new KNX startup incubator programme provides resources and visibility to startup companies committed to developing KNX IoT-based solutions.
Advertisement
[adrotate banner="30"]