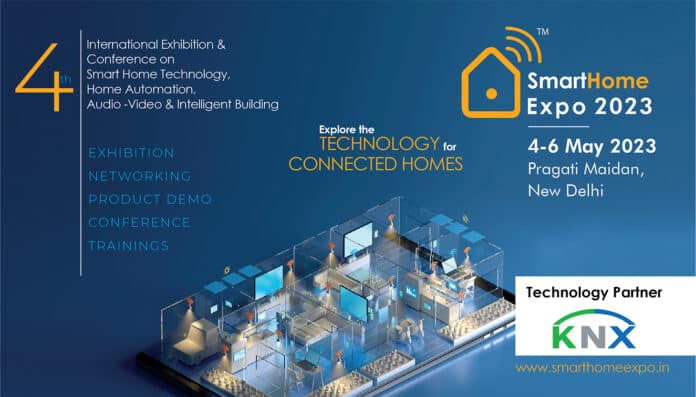 Advertisement
[adrotate banner="23"]
The Smart Home Expo is the largest trade show and conference within the smart home technology, and home /building automation industries in India, attracting over 250 brands and a record-breaking 12,000 visitors at its previous edition. The fourth edition, which is scheduled for May 4th-6th 2023 at the Pragati Maidan in New Delhi, India, is expected to be even larger and more impressive, with 100% repeat participation and a range of new products and innovations on display.
In addition to showcasing smart home technology, the expo will also feature Smart building technology & solutions. The Smart Home Expo 2023 promises to be a premier event for professionals and enthusiasts alike, offering live demonstrations, technical seminars, and an experience zone for hands-on engagement with the latest smart home technologies.
Advertisement
[adrotate banner="34"]
The KNX Association is pleased to announce its partnership with the Smart Home Expo 2023 as the official technology partner. This prestigious event presents an excellent opportunity for the KNX Association to increase awareness and educate attendees about the latest trends and developments in the smart home industry. During the expo, the KNX Association will host training and educational workshops for both its members and system integrators visiting the show.
The Smart Home Expo is a must-attend event for integrators, architects, interior designers, consultants, and real estate developers alike, as it will feature a wide range of KNX-certified products suitable for various applications. Multiple Indian & international manufacturers of KNX-certified products have already confirmed their participation in the event.
The Smart Home Expo has also announced special packages and discounts on booth bookings for KNX members, making it an attractive opportunity for them to showcase the latest innovations in smart home technology and network with industry professionals. We invite all KNX members and interested parties to join us at the Smart Home Expo to learn more about the latest trends and developments in the field.
For More Visit: https://www.smarthomeexpo.in/
Advertisement
[adrotate banner="30"]