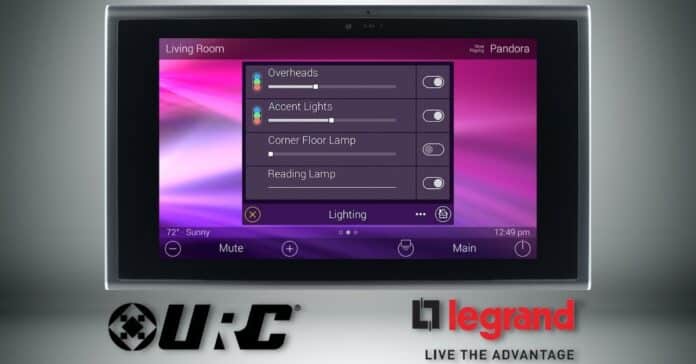 Advertisement
[adrotate banner="23"]
URC and Legrand came together and worked hand-in-hand to provide seamless control of Legrand's Vantage lighting and climate systems through Total Control, URC's residential and commercial automation platform. This integration allows events to manage numerous systems and devices using native use cases in Total Control's Scenes menus.
"While our lighting and climate systems offer homeowners incredible benefits from comfort to helping to boost productivity, how they command and control these systems is just as much part of that experience," says Charlie Derk, Director of Product Marketing, Shading and Residential Controls, Legrand North America. "We've worked with URC for years, and this is a natural expansion of our collaboration that helps our customers achieve the smart home capabilities that they envision", adds Derk.
Advertisement
[adrotate banner="34"]
Offering a wide range of latest products, Vantage provides accurate automated lighting control, which comes with intuitive and sophisticated interfaces. Also, URC's Total Control systems are smart, reliable and easy to install. Combining the power of Vantage's and URC's systems and devices, ushers in a new era of smart home technology for the URC dealer community and customers.
The key advantages:
Seamless & Unified Integration: Users may automate numerous climate zones, as well as other smart categories such as lighting, security, audio, video, and more, using URC's Unified Modules.
Energy Efficiency: Assists homeowners in better understanding their energy usage and finding strategies to save money.
Robust Scenes: Users can launch scenarios that create the ideal setting using skilled programming. "Good Morning" or "Goodnight" sceneries, for example, modify the climate and lighting devices.
Remote Control and Access: Allows for convenient control on-site, via the URC user interfaces, or via the Total Control app, which allows for multi-room control.
Voice/Hands-Free Control: URC's voice commands, which can be accessed via Total Control interfaces, Amazon Alexa, or Google Home, enable for two-way communication and simple homeowner operation.
Automation Programming Made Simple: Professional programming is simple and quick thanks to URC's dealer network.
"This collaboration continues our relationship with Legrand and elevates residential and commercial user experiences with true integrated control and automation," stated Lars Granoe, VP Product at URC.
About URC
URC is the world's leading provider of smart home automation and control systems. With over 100 million remote controls sold in the last ten years, URC technology is known for unparalleled performance and reliability. To know please visit , https://www.urc-automation.com/
About Legrand
Legrand is a leading provider of electrical and digital building infrastructure around the world. To further enhance their offer of complete solutions, they recently purchased established companies such as Numeric and Valrack. For more information https://www.legrand.co.in/
Image Source: legrand.co.in, urc-automation.com, prweb.com
Advertisement
[adrotate banner="30"]