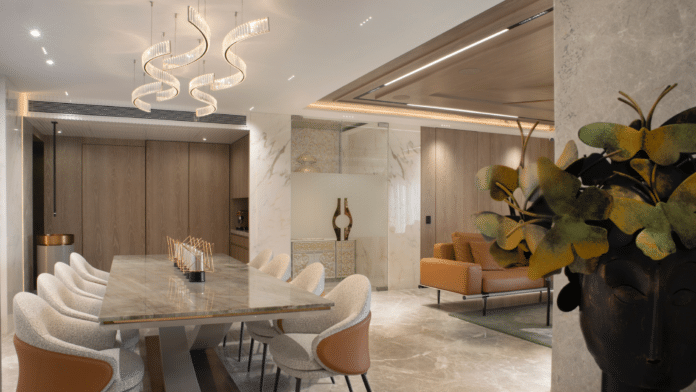 Advertisement
[adrotate banner="23"]
Ashutosh Wad & Manjunath Hathwar of Space Dynamix along with Beyond Alliance have designed a contemporary Smart Apartment that is characterised by clean lines and subtle colours. 
In this totally claustrophobic, chaotic urban space around us, this residential apartment transcends you into a different zone where you can spend some time delving into your mind and relaxing.
Advertisement
[adrotate banner="34"]
This 4 BHK apartment designed by architect Ashutosh Wad and Manjunath Hathwar of Mumbai-based Space Dynamix along with Crestron – Beyond Alliance has a timeless appeal. Explaining the design concept Ashutosh Wad adds, "In this project, we have aimed at achieving a minimalistic yet practical decor. Detailing is such that maintenance is minimal thus making this abode easy to live in, never overpowering the senses while elevating one's mood gently."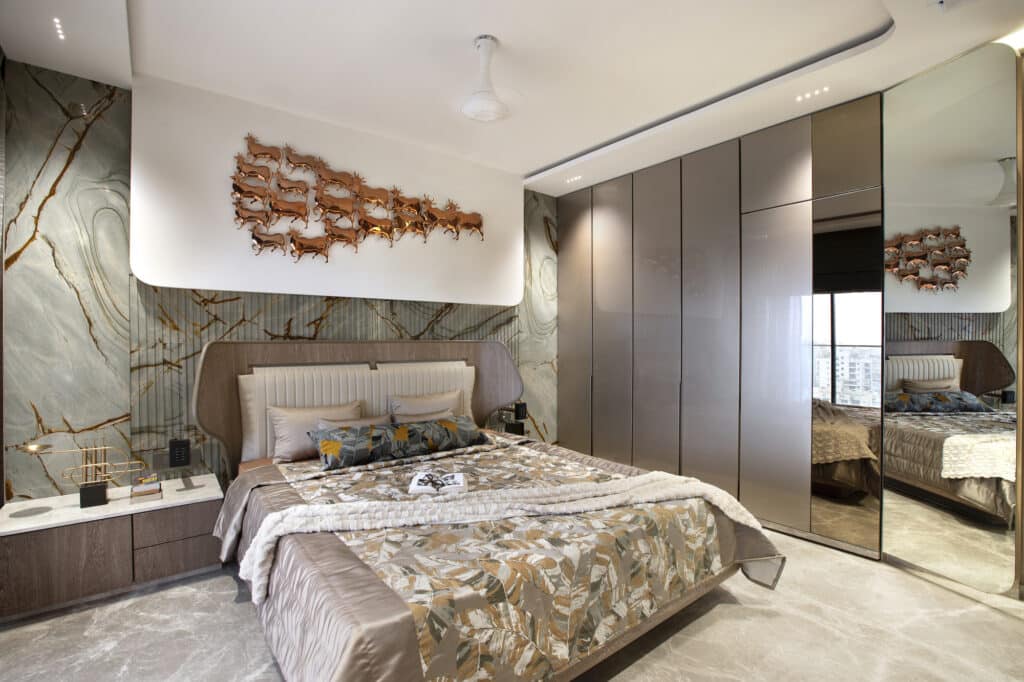 The family of husband and wife, two daughters, one son, and grandmother all three generations living under one roof wanted simple yet classy decor for their home.
Explaining the design concept, Manjunath Hathwar adds, "We tried to incorporate colours in limited proportion. One admires the extensive use of blue Romano Marble around the bed back and the same flouted pattern is replicated in other areas."
The layout planning was the most important phase in this project as the client was not happy with the builder-provided layout. The team redesigned the interiors to incorporate all the client's requirements. Another important aspect of the design was the integration of Smart Automation into this apartment. Adding further insight into the design concept Manjunath adds, "One of the most important challenges was the ceiling height, so we opted for in-ceiling speakers in such a way that the ceiling height wasn't compromised at all and yet we were able to get a 7.1 audio in place."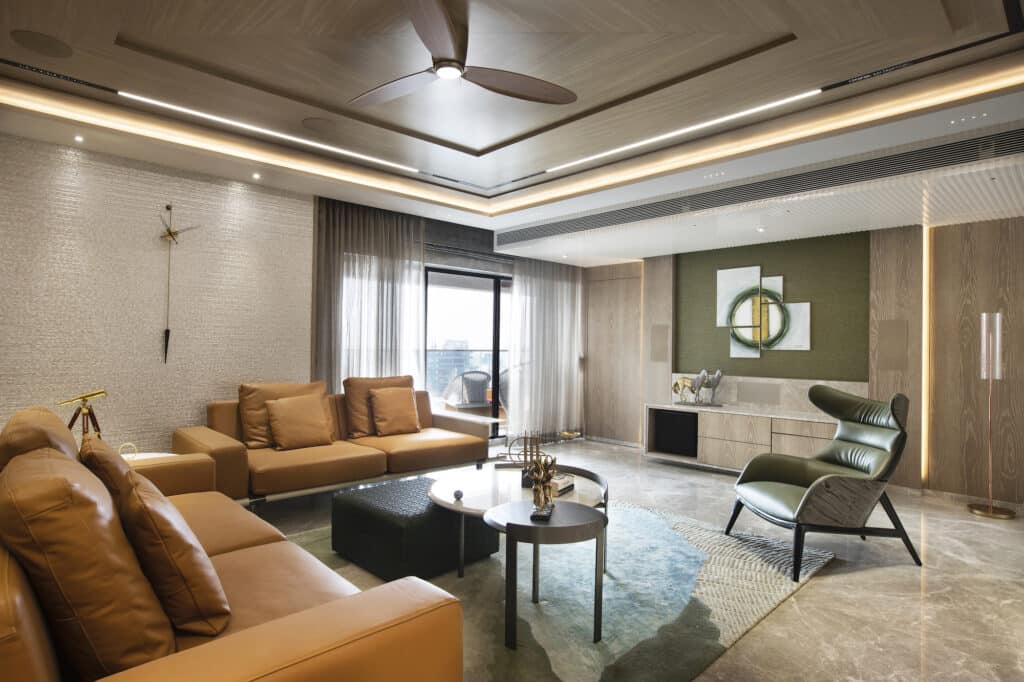 Beyond Alliance, the technology partners for this project provided their expertise for automation, audio-visuals, networking, and security solutions. Beyond Alliance has opted for Crestron systems to add intelligence to the homes. Right from Human Centric Lighting to dimmable tunable lights, Somfy motorized shades and drapes, biometric smart locks from eKey, surveillance in common areas and a robust Wi-Fi wired mesh network using Aruba are skillfully incorporated in the home.
Speaking about the advantages of Smart Automation Ashutosh adds, "The automation is not a product that breeds laziness, it is all about adding artificial intelligence into the homes. Everyday routines of the users are fed into the system. Drapes open at the scheduled times, sleep patterns in terms of when to switch the AC Off and when to turn the fan On at what hour of the night and at what speed are all a part of the night scene. We program energy-saving routines by balancing the use of natural and artificial lighting."
He further elaborates, "User-friendliness is the core reason for choosing Crestron. The App is customizable. The youngest and eldest should be able to use the projector and be able to navigate through the tech without any learning curve."
Encouraging younger budding designers Manjunath adds, "Automation system can only be as good as its integrator, and after-sales support strength is as important as technical expertise. I would strongly urge our design and build industry to make each corner of their home as smart as they make it aesthetically beautiful. The fun begins when design meets intelligence."
Brand Details:
Automation System Used: Crestron – Beyond Alliance
Lighting: DALI dimming
Security Cameras: Hikvision
Digital Locks: Yale
Biometrics: eKey
Smart Locks: Yale
Hardware Used: KNX
Networking Devices Used: ArubaMotorized Shades and Drapes: Somfy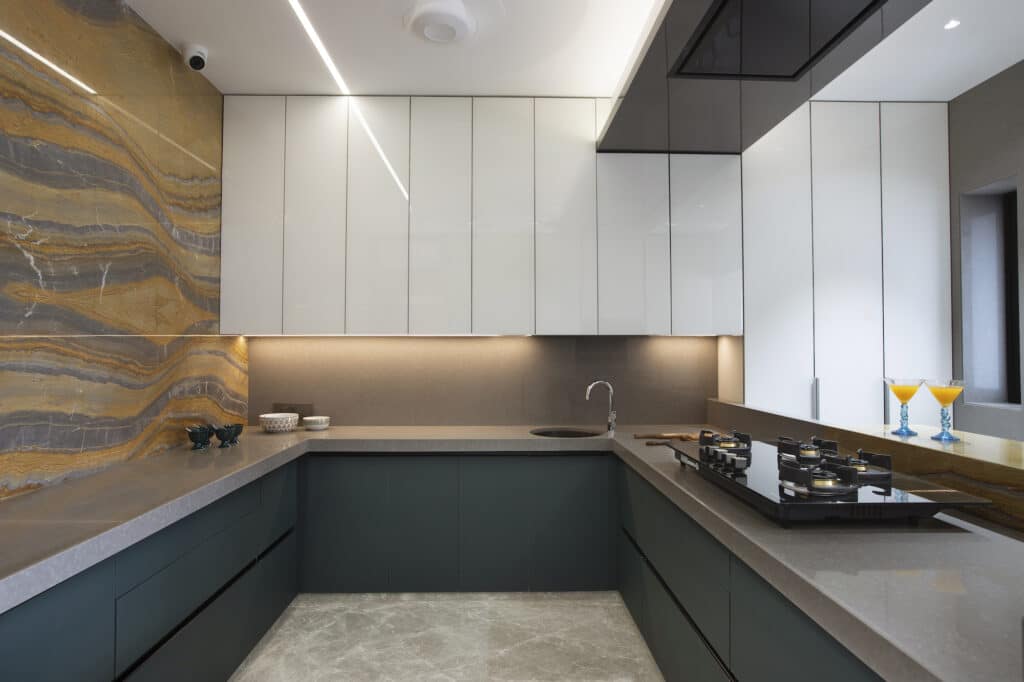 Advertisement
[adrotate banner="30"]